Dynamite!! MMA Welcomes 2010: cracked balls & broken bones
by: Sifu Joomla
December 31st 2009 Japan welcomes the new year with a very powerful card. The Fields Dynamite!! 2009 is an annual K-1 and MMA mega-fight event. The best MMA pound for pound fighters and K-1 strikers meet in Saitama Japan Super Arena for the tournament Grand Prix championships, DREAM versus Sengoku featuring Strikeforce's Heavyweight champion Alistair Overeem, WAMMA Undisputed Lightweight Champion Grappling sensation Shinya Aoki Vs Mizuta Hirota, Light Heavyweight Champion Gerard Mousasi Vs PRIDE/UFC Veteran Gary Goodridge, Koushien Finale, and the much anticipated main event trilogy ending between Japan's 2-time K-1 World Grand Prix Champion Masato on his retirement fight against nemesis Andy Souwer of Netherlands. Souwer also a 2-time world champion defeated Masato by Unanimous decision in 2006 and by a TKO in 2007 Grand Prix Championship battle. Masato aimed for a sweet retirement win over Souwer.
Dynamite event starts 6pm on the 31st until midnight new years eve for the main card, and welcome 2010 with the two best pound-for-pound strikers going toe-to-toe in a big drama behind the face-off K-1 mega-fight. Kicked-off with Koushien Japan under 18 Finale. Shota Shimada and Masaaki Noiri traded powerful strikes in the championship rounds. Shimada lost to Noiri's superior technical striking and relentless attacks via unanimous decision after the three two-minute round K-1 rules Under 18 finale. A preview on Japan's upcoming superstars.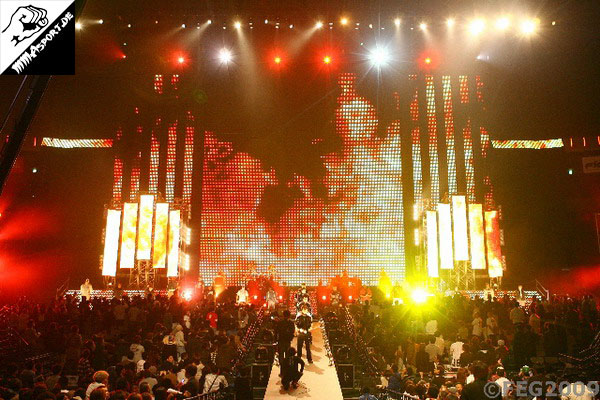 Super Hulk Championships followed with U.S.A Team Quest's Judo ace and sinister ground-and-pound specialist Sokoudjou advancing to the finals after he defeats 2005 Japan GP Champion former NFL/WWE star Bob Sapp in an excellent display of ground control and brutal pounding. Cameroon native Sokoudjou squares-off with Japan's Minowaman. Ikuhisa Minowa is the smallest competitor in the Super Hulk Tournament, advanced to the finals by defeating Korean kickboxing 7'2" giant Seoul GP winner Hong-man Choi. In the finals Minowaman dictated Sokoudjou's fast pace by controling the distance. Sokoudjou dropped Minowaman with a powerful right and almost submitted him with a rear naked choke in the 1st round. Minowa answered a quick bell beating toe lock on the 2nd and finally finished the fight with a speed blinding punch that caught the Cameroon Judo master off-guard. A New Years Knockout celebration followed.
The MMA Dream Vs Sengoku continued on recording knockouts and sick grappling exhibition. Team Sengoku recorded the first three wins including the win over famous UFC veteran multi organization champion Hayato Sakurai. Akihiro Gono displayed top level athleticism and attacked Sakurai with a very slick arm-bar submission. The 3 fight Sengoku winning streak was halted when Melvin Manhoef took the ring and gave Kazuo Misaki a devastating beat-down, prompting the referee for a quick stoppage. Team DREAM continued winning and answered with a 3 fighter win rally. Hidehiko Yoshida welcomes Japan's number one Olympic judo star Satoshi Ishii to MMA world, but backfires with a crushing knee to the balls. Fight was stopped and eventually restarted after replacing Yoshida's cap. OUCH! Strikeforce Heavyweight Champion Alistair Overeem of Holland on a very out-classed battle versus Japan's Champion wrestler Kazuyuki Fujita. Overeem Knockouts Fujita with a very vicious knee in the first round. Dream Vs Sengoku tournament finishes off with its two Lightweight champions battling for supremacy. Shinya Aoki submitted Hirota with a very nasty reverse arm-lock. Aoki easily drops Hirota to the ground and established control on the hapless Sengoku Lightweight champion. Aoki broke Hirotas shoulder first by pulling off the arm on Hirota's back, with both legs controlling the posture a la body triangle. Aoki continued on the submission breaking Hirota's arm and literally pulled it off his joints. Aoki made a very un-sportsman conduct afterwards, giving Hirota's face the middle finger. Aoki ran off the ring celebrating his sick win.
One of the Highlights before the main event was the meeting of two MMA greats, Gegard Mousasi Vs Gary Goodridge. The fight did not stand the hype. Goodridge was not in shape for a fight and Mousasi beat Goodridge in a one sided battle.
2010 Midnight. Masato faces K-1's toughest striker in his retirement fight. Masato must win over the man who defeated him twice. Andy Souwer battered Masato the whole five-round battle. Masato's edge was only when he knocked-down the out balanced Souwer on a beautiful counter. Andy Souwer still managed to throw his kick on the way down. If judged by most powerful strikes and without the knockdown Souwer could have stolen the celebration. One Big party for Japan and an applause on Masato's sweetest retirement win.
FREE MMA TV. UFC videos
&
STRIKEFORCE FIGHT replay archive. DOWNLOAD or view live streaming p4p FREE PPV webcast.
Boxing News and latest video updates
-
Fight Central
.
FIGHT ACADEMY
- http://fightacademy.vze.com
Manny Pacquiao Boxing videos fight library
- www.FightTV.vze.com

www.sifuknows.echoz.com
-
free live boxing TV online webcast
.